The game was developed as the first project for the subject of Multimedia Production of the 3rd year in digital arts and multimedia. 
The main intention of the project was for the students to create something that is capable of reflecting and transmitting their own aesthetic and style.
From the beginning I knew I wanted to create a game because it was the most capable medium to transmit my ideas and style to reality, and also because is one of the things that i like to do the most and hope to one day do professionally.
the game was developed using Unity, the player has control of a knight who seeks the answer to get rid of the curse that begins to take over his body, therefore, he will have to wander between the various scenarios and worlds and surpass several difficulties. 
The game world will be somber and melancholy with a cooler and darker palette. The gameplay mechanics will combine the style of "hack-n-slash" and add boss fights, in this more initial stage of development I will focus on the realization of two different characters, the player and the enemy or boss, in addition to working also in a scenario that involves them.
 The surrounding scenery will be a desert landscape, which will have a darker and darker color palette to allow the characters to stand out.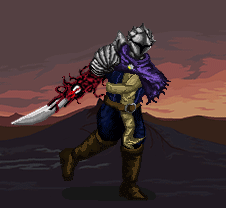 The spritework was developed in photoshop and in pixel resolution, in the development of the sprites i focused on developing at least three types ofdifferent attacks for each character in the case of the main character this involvesshort to long range attacks and finally in the case of the enemy it involves attackswith projectiles. 
The ambition for this project was to at least be able to develop and create an earlybuild of the game capable of demonstrating my intentions and goals withthe game. In the case of history, I have not yet developed anything in concrete because the samegame story can be further developed, but for now, the storyfocuses on a fantasy world, however, more turned to the medieval era wherethe world was infected by certain parasites that in contact with the inhabitants makes themhosts or grants them abilities. 
Lastly the game was developed in  a period of three weeks with the  help of my friend
Mário Gil
who did the coding for the game, moreover given the short period of development time i had to use a song by the composer
Yuta Kitamura
since it fit the theme of the game perfectly